Skip Navigation
Website Accessibility
Experience Blacksburg's Historic Clay Corner Inn Near Virginia Tech
Boutique Lodging & Full Service Catering
Clay Corner Inn warmly welcomes you and strives to extend a personalized touch to meet your needs in a small lodging environment. We offer the feel of a home with the amenities and luxury of a hotel. Our breakfast is personalized to each guest and fresh each morning. Our back patio and pool area are desiged to help you relax and unwind. You will find we deliver much more than an overnight stay but an experience like none other.

Visit Blacksburg, Virginia, stroll through downtown, hike a trail, eat at one of our amazing local restaurants, take in the beauty of Virginia Tech campus, and most importantly relax knowing you are safe with us.
Completely contactless check-in & ongoing communication.
Full hot & fresh breakfast with optional in room service.
We use industrial cleaner to sanitize rooms completely.
Whole house rentals available - call us directly for pricing.
Air purifiers in every room!

Being a small operation we are able to be detailed keeping you safe and comfortable.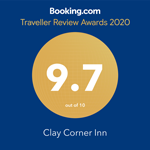 Location! Location! Location!
In downtown Blacksburg next to Virginia Tech (on the stadium, dorm and sports side), this professionally-managed bed and breakfast is the ideal place to stay. You can walk to athletic events, downtown restaurants, national and international performances, movies, bookstores, coffee shops and more. There is off-street parking, private swimming pool and an 8-mile walking trail on the next block. Hiking, bicycling, fishing, rafting, ziplines, tubing, wineries and horseback riding are nearby.
Find Out Why You Should Visit
View the things to do in and around the Blacksburg area
VT Football 2023 Tailgates Now Available
We welcome everyone from guests, family and friends of Clay Corner Inn to all join us for our incredible tailgate celebrations! Our tailgates are free to attend but those wanting a parking spot this package is a must. We have a limited amount per home game to don't hesitate.
Our tailgate package always includes parking. We are selling limited private parking spaces right in our front lawn. We are steps from Lane Stadium and in the heart of Blacksburg, the location is perfect for tailgating and can't get better parking. We also feature live music from local artists along with great food and drinks. Your package this year will include food discounts and specials.
Message From The Owner
Welcome to our website! My wife and I would like to thank you for considering Clay Corner Inn. We understand that there are numerous choices of hotels in the area and appreciate you taking a moment to see what we have to offer.

It is our goal to provide an "at home" feel with all the amenities and luxuries of a hotel. Our commitment to friendly, attentive customer service is second to none, and continues to distinguish us from our competition. We promise to delight you each morning with an exquisite breakfast, and we remain one of the best values in the Blacksburg area.

If there is any way I can assist you in your travel and hospitality planning, please do not hesitate to reach out to me. Again, thank you for considering Clay Corner Inn. I look forward to welcoming you and serving you in the near future.
Warm Regards,

Joshua Roseberry
Owner & General Manager